Inn Transition North, the League's flagship project for more than 20 years, has provided housing and resources to women and children who are survivors of domestic violence as part of a public-private partnership with Miami-Dade County.  Inn Transition South was opened in 2002 across from an elementary school in a residential community.  It is a gated complex for women and children that includes 56 two-, three- and four-bedroom garden style apartments, a community center with a children's library and a playground. A partner in the founding and opening of ITS, JLM volunteers provide life skills training and enrichment activities for residents.
Junior League volunteers mentor a family and participate in regular outings with the families in residence at the apartment complex.  League volunteers also provide life skills training and enrichment activities for residents.
INN TRANSITION – JLM'S SIGNATURE PROJECT
Inn Transition is a creative and vital answer to transitional housing for victims of domestic violence and their children. In a partnership created with Miami-Dade County, these apartment facilities provides housing, counseling, and child-care for a period of three to 24 months for families. The facility needs our help to continue to provide a safe living environment for shelter residents.
INN TRANSITION SOUTH – A BRIEF HISTORY
INN Transition South, a community project of the Junior League of Miami, was conceived in the aftermath of Hurricane Andrew which hit south Miami-Dade County in August 1992. The Junior League of Miami wanted to do something that would have an impact beyond immediate hurricane relief. Seeing a need for domestic violence transitional housing, the League decided to replicate its highly successful INN Transition North signature project.
Built on a five-acre site of a former public housing project on land donated by the U.S. Department of Housing and Urban Development (U.S. HUD), ITS was financed through a myriad of complex funding sources. Donations came from Junior Leagues across the country, from such non-profit organizations as We Will Rebuild and the Knight Foundation, through State of Florida affordable housing tax credits, from Miami-Dade County documentary stamp surtaxes, from a federal grant from U.S. HUD, and other local funding sources, as well as through in-kind assistance.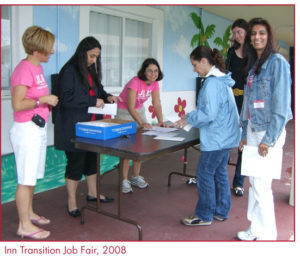 Opened in 2002, ITS is a gated complex in a residential community across from a public elementary school. The facility includes 56 two-, three- and four-bedroom garden style apartments, a community center with a children's library and a playground. Miami-Dade County manages the facility and administers the support services provided to the residents to empower them to reach self-sufficiency. Each adult resident, working with a County counselor, makes a personal plan to achieve economic independence and self sufficiency. Life skills training and enrichment activities are provided by JLM members to include job fairs, holiday parties, back-to-school events and parenting classes.
To date, dozens of parents and children have benefited from ITS
The following article is reprinted from Fall 2003 Junior League Journal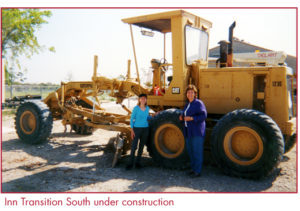 JLM WELCOMES INN TRANSITION SOUTH RESIDENTS
Inn Transition South is a 56-unit apartment complex in South Dade for victims of domestic violence and homelessness. The volunteers provide residents with monthly life skills training as well as recruit other community organizations to volunteer their time.
Our first workshop was a Welcoming Event to familiarize the ITS residents with our program. We were thrilled to have 10 mothers and more than 60 children in attendance. The mothers were given an overview of our goals and objectives for the year. We also surveyed them as to the types of future workshops in which they would like to participate.
While the adults were busy "working" to design a program to meet their needs, the children were busy "playing." Laurel Auerbacher, Lisa Coots and Tricia LeClair coordinated the children's activities which included arts and crafts, games, an egg toss and relay races. The children were very proud of the photo scrapbooks they made and will continue to build throughout the year.
The success of this first workshop was due to the hard work and dedication of the entire 25-member ITS Committee. Special thanks to: Melissa Farrell and Megan Courtney for cooking up a Brunch Extraordinaire; Raquel Vega for serving as interpreter and Legal Expert for the day (legal advice turned out to be in great demand that day); Heidi McInnis and Teresa Thornburg for putting together a closet of clothes and shoes donated by the JLM Encore Shop and committee members; and Michael Spivack (husband of ITS Co-Chair, Liz Spivack) for organizing a basketball game for more than 20 children.
Teresa Thornburg and Shontell Humes will coordinate our next event, a financial workshop, on October 11th.
Prior to the start of school, the ITS committee outfitted the children with backpacks through Project Upstart filled with school supplies donated by JLM members. The Committee is now collecting car seats. If you have a car seat that you would like to donate, please call us.
The following article is reprinted from Fall 2002 Junior League Journal
INN TRANSITION: FLAGSHIP PROJECT EXPANDING ITS REACH
North: Serving Women and Children for 12 Years
By Michelle Ramirez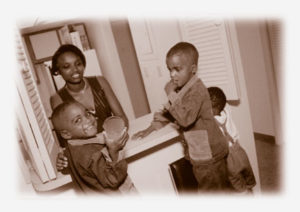 During the past League year, the Inn Transition North Committee made a special effort to focus on the needs of the project's children. The children were able to enjoy Parrot Jungle, the movie theatre and other local attractions. Another highlight was a festive holiday party for which the provisional class provided the entertainment, along with the "Grand Opening" of the newly refurbished Activity Room. The implementation of an informal reading hour on Sunday evenings, where the children and mothers were able to interact with our committee members, was a big success.
At the end of the year during a dinner for the women held at the Rusty Pelican, one resident commented that there was "nothing I did not like, I liked every event. What I would like to know is when I'm ready, how do I join the Junior League?"
Our committee members went above and beyond the call of duty helping outgoing residents transition to their new lives smoothly. They continued their mentoring work over the summer as residents faced challenges with childcare, transportation and employment. The committee also provided valuable input into the screening process for residents at the Safe Space shelter, and once again, we are filled to capacity. The committee also researched alternatives, secured funding, and organized all logistics for the children to attend summer camp near the facility.
This year, the Inn Transition North Committee will be concentrating on providing life skills training to the women to help them handle the many obstacles they face and ensure they are financially prepared to transition out of the program. Lecture topics will include childhood discipline, parent involvement in children's education, budgeting and computer skills.
Under the leadership of past chair Susan Lerner, this past year proved to be exceptional and rewarding. The foundation built at Inn Transition North by the League will continue to help women and children who are victims of domestic violence successfully rebuild their lives for many years to come.
SOUTH FACILITY IS WELL ON ITS WAY
By Stephanie Demos and Liz Spivack, ITS Chairs
The completion of Inn Transition South is now in the final stretch. The buildings are almost complete with the final touches, furniture, landscaping and certificate of occupancy approval just around the corner. The County is in the process of hiring the staff, which will consist of more than six Social Workers and Administrators, a Maintenance Person and one Resident Manager. The Grand Opening will consist of a ribbon cutting ceremony hosted by the County with the date and time to be announced. The Junior League of Miami is also planning its own special party to recognize and celebrate the 10 years in which JLM has worked to make this project a reality. We hope to have our celebration date out to everyone soon.
For those members who are not familiar with the project, Inn Transition South will provide more than 50 units of transitional housing with on-site supportive services for homeless families primarily headed by single mothers who are in temporary emergency shelters due to crisis poverty or domestic violence. This project is an expansion to the Inn Transition North facility in North Miami-Dade. The primary goal of the project is to empower single mothers to develop self-determination skills, which will lead them to establish attainable financial and educational objectives and enable them to achieve and sustain independent living.
The goals of the Inn Transition South Committee will be to coordinate Life Skills Training sessions on a variety of different topics, such as, substance and alcohol abuse, adult literacy, establishing financial independence, various healthcare topics, school readiness, etc. We'll be teaming up with the All Aboard Story Hour Committee to provide story hour for the resident's children, while the parents are participating in the training sessions. The committee will be putting together Welcome Baskets for all new residents, full of fun and helpful sundries. This basket will also include an Area Resource Manual (that the committee will develop), informing residents about their new community and location of various services and stores in the area.
We're looking forward to the grand opening of this very important project. In the meantime, if you or anyone you know is interested in developing a training session for the residents of Inn Transition South, please feel free to contact us. Several JLM members have already offered to provide classes on some great topics. We look forward to the celebration of this signature JLM project.
Reprinted from October 2001 Journal
JLM ACTIVE IN THE FIGHT AGAINST DOMESTIC VIOLENCE
By Heidi McInnis
Long before domestic violence regularly made the headlines, the Junior League of Miami was helping to make a difference in the lives of abused women in Miami-Dade County. In 1986, the chair of JLM's Public Affairs Committee, Claudia Kitchens, urged the League to use its $100,000 surplus to address the housing needs of battered women and their children. This seed money, combined with other generous donations and dedicated fundraising by members, enabled the Junior League of Miami to purchase an apartment complex in North Miami. This was the beginning of Inn Transition, JLM's creative and vital answer to transitional housing for victims of domestic violence and their children.
Now in its eleventh year, this JLM flagship project has grown to include two adjacent apartment buildings with 20 units total, providing housing and resources to women and children who are victims of domestic violence. Operated in public-private partnership with Miami-Dade County, Inn Transition residents are drawn from applicants staying at Safe Space, the County's domestic violence emergency facility. Inn Transition provides the next step, longer-term housing, typically for four to six months. Residents are able to work on education, job-training, saving money and stabilizing their lives so that they can transition from this residential housing program to independent, permanent housing.
The ultimate goal of Inn Transition is to break the cycle of domestic violence and help to enable each resident become economically and emotionally independent, and able to provide a stable life, free of violence, for both herself and her children.
For daily operations at Inn Transition, the County takes the lead, managing childcare, transportation and counseling. Inn Transition North Inc. operates as a subsidiary corporation of the League, carrying certain landlord-type responsibilities. But the heart of the League's volunteer work is with the families. In addition to planning regular activities with the women and their children, the League provides a mentoring program, lending a friendly ear and supportive voice, hleping to play a vital in each woman's "transition."
Since 1990, approximately 175 mothers and 387 children, representing all racial and ethnic origins. Applications are reviewed for the units as they become available as a result of successful "transitions."
Spreading the model
Based on the success of Inn Transition North, the League has assisted Greater Miami Neighborhoods and Community Services to build a 56-unit complex in South Dade to address the needs of homeless families and families who are victims of domestic violence. After 14 long months, building permits have recently been acquired and construction is about to begin. It will take approximately one year to complete the apartments and Community Center.
Another League effort to combat domestic violence is the Domestic Violence is Your Business Project. This project provides support to businesses in developing corporate-level training and appropriate domestic violence education and awareness programs, corporate policies and procedures, including communication and safety plans.
If you or someone you know is a victim of domestic violence, help is available. Some important numbers are: 24-hour Hotline for Domestic Violence, (305) 349-5888; National Domestic Violence Resource Center, (800) 537-2238; and the Women's Domestic Violence Support Group, (305) 758-2546.
More about Domestic Violence, see October 2001 Journal
Reprinted from October 2000 Junior League Journal.
INN TRANSITION NORTH UPDATE: WE ARE GOOD FOR ANOTHER 10 YEARS!
By Susan Lerner, Inn Transition-North Co-Chair
The Junior League and Metro-Dade County renewed the Inn Transition North lease for another ten years, which will see us through our current funding for the program.
Assistant chair, Mayra Lindsay has graciously attended the Safe Space panel meetings to ensure that all of our available apartments are filled by the fall. Thank you, Mayra. On August 30, the Inn Transition North committee met for dinner at headquarters. The members were assigned a "mentee" and a monthly event to host.
This year's events include shopping at the Encore Shop, a holiday party at the Coral Gables Youth Center, a Heat game and movies in May. We'd also like to attend the circus and the Miami Seaquarium. If any Junior League member can help us arrange for tickets to these events or any other fun events, please let us know.
INN TRANSITION – ADDRESSING OUR COMMUNITY'S NEEDS
By Karen Cabrera, INN Transition North Co-Chair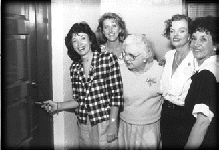 Domestic violence is one of the most common of all crimes, with an act of domestic violence occurring every 18 seconds in the United States. Domestic violence affects between 2 to 4 million women and between 3 to 10 million children each year. Children who live in a violent home or who have been abused themselves are more likely to abuse a spouse or a child when they become adults than are children who are raised in a non-abusive home. Unfortunately, most women find it difficult to leave their abuser because of emotional and financial bonds. Domestic violence usually escalates as time progresses and their husbands or boyfriends kill almost 4,000 women each year.
Of the approximately 6,000 homeless individuals in Dade County, an estimated 15 percent are victims of family violence. Frequently, these women and children seek safe emergency shelter through the Metro Dade Advocates for Victims Safespace Program, but then need a longer period of time to achieve an independent, abuse-free lifestyle.
INN Transition, a cooperative effort of the Miami-Dade Department of Human Services and the Junior League of Miami, provides transitional housing and support service to these families while they work toward economic self-sufficiency and a life free from abuse and domestic violence.
As of September 1998, the program has helped 146 women and 310 children change their lives by providing support during this difficult time. The average length of stay is 8 to 10 months and residents can participate in child enrichment activities, parenting groups, job skills training, career counseling, financial/legal counseling, health education and more. Junior League committee members provide a support network through a mentoring program. Each month the Junior League committee hosts an event for the residents and their families, including trips to baseball games, holiday parties, make-overs, resume writing and career training. The committee is currently in need of Spanish-speaking mentors and anyone interested in mentoring is encouraged to contact the committee cochairs.
Last year, through a very successful Holiday Happening fund raising event at Vizcaya, the remaining debt on the properties was retired and an ongoing maintenance fund was established. Holiday Happening, a multicultural networking event for women, will take place again this year on December 10, 1998, at Vizcaya. With an anticipated attendance of 1,000 people representing more than 30 volunteer, professional and charitable organizations for women, we know the 1998 event will be an exciting one!
In the Photo: Lynn Summers, Liz Folmar, Martha Lummus, Claudia Kitchens and Ronni Bermont open Inn Transiion in 1990.
From Tropical Topics 70th Anniversary Edition "A Retrospective 1926-1996"
INN TRANSITION: A SIGNATURE PROJECT OF THE JLM
by Martha Pantin
Inn Transition is the Junior League of Miami's (JLM) creative and vital answer to transitional housing for victims of domestic violence and their children. In partnership with Metro Dade County, this 20-apartment facility provides housing, counseling and child-care for a period of three to 24 months, for women and their children. The program is an integral component of the continuum of care which victims need to break the cycle of domestic violence.
Today's statistics regarding domestic abuse are staggering. However, prior to major headlines exposing this problem to the public, the JLM was diligently working to make a difference in the lives of abused women in Dade County.
Sustainer Claudia Kitchens, the visionary for Inn Transition, explained, "Mary Lynch, JLM president at the time had a real desire that we, as an organization, should become involved in a major project. A project that would be associated with us for many years, a project that could become our `signature'.
"Fortunately the JLM had $100,000 in savings at that time. We had the desire of our leadership to become involved in an ongoing manner with one project. We had the support of our members to work on a project whose main and direct beneficiaries would be women, and we had the seed money to make it happen."
The process to make this project a reality took only three years. By 1990, 10 housing units and administrative space had become operational (Phase I).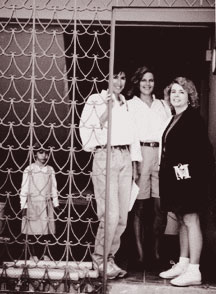 "This project was made possible through the efforts of many," said Lynn M. Summers, who was instrumental in the establishment of Inn Transition. She is a former chair of Inn Transition and currently chairs the Inn Transition South Committee.
"Inn Transition combines the institutional strength, stability and public funding provided by the county, with the capital funding, development strengths, volunteer and advocacy capabilities of the JLM."
"After Phase I had been completed we faced a new opportunity and a new challenge," said Susan Moll, Inn Transition's treasurer (1991-92) and committee chair (1992-93). "The opportunity came when the building next door was presented for sale. JLM again committed its resources and volunteers by purchasing this 10-unit facility (Phase II)."
"The challenge came when we began renovations on Phase II in the Fall of 1992, immediately following Hurricane Andrew," Susan said. "Construction prices had doubled over our pre-hurricane grant for building rehabilitation. Teresa Zohn, our designated renovation supervisor on Phases I and II, worked diligently with the contractor to cut costs. Also, our committee and the community rallied. Committee members painted cabinets and cleaned apartments. From the community, the Wallpaper Hangers Guild volunteered to wallpaper bathrooms and kitchens; to beautify the exterior, Don Pelton donated landscaping and Dale Ormes of Kendall Sprinkler installed the sprinkler system free of charge. These donations came at a time when everyone had great needs of their own."
Nevertheless, Phase II was successfully completed and dedicated in April 1993.
Building the facility was only a part of the League's continuing commitment to the women and children who reside at Inn Transition. Each resident receives a mentor, generally a League member, who provides her with a friendly ear and a supportive voice. These relationships are a vital part of the women's "transition."
For Lea Nickless, Inn Transition's 1995-96 co-chair, working on this project has been a wonderful experience, particularly serving as a mentor for a year and a half.
FOCUS ON CHILDREN
In 1992, the League began to address the needs of Inn Transition's younger residents. "While working with my mentee, I realized that an important part of breaking the cycle of violence was helping the children who had seen these destructive relationships, learn how to deal with their feelings," said Kara MacCullough, Inn Transition's 1995-96 co-chair and 1994-95 mentor chair. Thus the League reached out to the Mailman Center and Dr. Bob Morgan, who was just beginning to counsel children referred to the Center by the Domestic Violence Court. Today all of Inn Transition's school-age children attend a weekly counseling session in which they address their experiences and develop the life skills that will help them avoid becoming a second generation abuser or victim.
The goal of Inn Transition is to break the cycle of violence with each resident becoming economically and emotionally independent, and able to provide a stable life, free of violence, for both herself and her children.
The first step begins at Safespace, the County's shelter. Women who complete the Safespace Program and show a desire for ultimate independence, are selected by professional counselors and League volunteers for Inn Transition.
Since 1990 approximately 87 mothers and 197 children have been residents with all segments of our community represented. The ethnic breakdown of residents is 50 percent Hispanic, 22 percent Black and 28 percent Caucasian.
League members have contributed more than 8,000 volunteer hours to the project since its inception.
In partnership with Metro Dade County, the JLM has been successful in raising the funds for rehabilitation of the apartments for transitional housing, and to secure the operational funding for the program through the year 2003.
Funding sources include: Federal H.U.D. Stewart B. McKinney Fund, Victory for the Homeless Foundation, The Knight Foundation and the JLM. "With operational funding in place the League's highest priority is retiring the debt ($293,000) that was incurred with the purchase of the two apartment buildings and establishing a long-term maintenance fund ($200,000)," said President-Elect Lindy Colson. "Since December 1995 we have been fortunate to have received financial support from the Coral Gables Rotary Club, the Women's Relief Association, and the following: Ruth and August Geiger Charity, Alma Jennings, Dunspaugh-Dalton and the William J. and Tina Rosenberg foundations. However, we still have a long way to go to reach our financial goals."
Meeting this obligation will provide assurance to the community that Inn Transition will continue to provide critical housing to women and their children who have lived in violent homes.
EXPANSION PLANS
The JLM continues to expand the program to meet the needs of more women with Inn Transition South, a 20-acre intergenerational housing complex. JLM is partnering with the South Miami Heights Community Development Corporation and the University of Miami School of Architecture to make this project a reality.
The real benefit of this program however, comes from the testimonials of women, such as current resident Joan H.* who said,
"I just am glad that there is an organization, such as the Junior League. They helped me get a new outlook on my self worth and life."
Program graduates, such as Meribel D.*, have proved that this program is a success. During her residency at Inn Transition, she was employed full time as a case manager for a community health center. She also found the time to serve as the cultural arts coordinator and taught aerobics, choreographed plays and helped clients rebuild their self-esteem. She became emotionally independent from her abusive husband. Her goals are to ultimately reunite with family out of state and to complete her bachelor's degree.
Since graduating from Inn Transition, the staff has received correspondence from her. Meribel is attending a university and continues trying to gain economic independence for both herself and her three children.
Success has also been measured by the achievements of children such as Jena A.* Jena was recently awarded the Mayor's Junior Citizenship Award for the City of North Miami by Mayor Howard Premer. Jena's fourth grade teacher nominated her stating "despite her severe family problems, Jena is always willing to help her fellow students."
In 1996, Inn Transition was chosen as a finalist in the Governor's Peace at Home Award for programs which provide creative solutions to the issues of domestic violence. Inn Transition provides victims of domestic violence and their children a chance to become independent and live in safety, it provides League women with an opportunity to make a positive impact on another woman's life and it provides the community a continuing example of how the private and public sectors can work together. A project that hopefully, will continue to carry the League's signature into the year 2066 when JLM celebrates 70 more years of making a difference.
Kara MacCullough contributed to this article.