WWMD – Corporate Sponsorship Page
WOMEN WHO MAKE A DIFFERENCE
CORPORATE SPONSORSHIP INFORMATION
OVERVIEW
The Junior League of Miami (JLM) will be hosting its 19th Annual Women Who Make a Difference Luncheon virtually on September 10th, 2020. This event, presented by The Northern Trust Company, is a fundraiser honoring women who have made outstanding contributions in volunteerism and developing the potential of women in our local community. This year's honorees are Becky Roper Matkov, Maria Clara Harrington, Ana VeigaMilton and Lileana de Moya.
This year we have three scholarships being awarded to local females exhibiting exceptional community service and academic achievement throughout high school. This year's new scholarship winners are Milarvi Paul, Massiel Cobblah, and Natalia Fermin. In addition to the new scholarship winners, we have three past scholarship winners who have been extended for another year of scholarship funding; these young women are Sophie Sepheri (Duke University), Telkevia Mackey (FAMU), and Sabrina Dillon (Tulane).
PURPOSE
Proceeds from this event will support programs focused on women and children at risk. Individual and corporate support will fund our three signature projects: INN Transition North (ITN), INN Transition South (ITS), and Done in a Day volunteer opportunities. For more than 20 years, INN Transition North and South have provided transitional housing facilities and support for survivors of domestic violence. Today, ITN and ITS serve nearly 300 women and children.
EVENT DETAILS
The Women Who Make a Difference Luncheon, presented by The Northern Trust Company, is going virtual on Thursday, September 10th, 2020. Emcee Pam Gigante will lead an engaging panel discussion with our 2020 honorees: Ana VeigaMilton, Lileana de Moya, Maria Clara Harrington, and Becky Roper Matkov. Superintendent Alberto Carvalho will announce this year's scholarship winners.To access the Silent Auction, please visit the WWMD 2020 fundraiser website here; the Silent Auction will open on September 3rd at 11am and close promptly at 1pm on September 10th.
OUTREACH
More than 1,500 event invitations will be sent to JLM members and supporters, providing event partners with significant marketing exposure and exclusive access to our email and social media networks. Sponsorship opportunities also include options for inclusion in the digital event program, Junior League of Miami Magazine, and on our website among others.  Please review the complete sponsorship package or reach out to wwmdchair@jlmiami.org for additional details.
CORPORATE SPONSORSHIP INFORMATION
By sponsoring the Women Who Make a Difference Luncheon, your organization will become part of a community dedicated to serving the needs of families at risk in Miami. Designed to showcase the power of your brand to make a difference in building community, we offer these exclusive benefits. Our recognition program provides distinct opportunities based on level of giving. For any questions, or to confirm your chosen sponsorship package, please contact our WWMD Co-Chairs, Taylor Abess and Candace Tejidor, by email at wwmdchair@jlmiami.org, or by phone, at (213) 842-3668 or (786) 512- 8027, respectively.
PRESENTING
$15,000
One year of programming for domestic violence survivors and their children at Inn Transition South
PLATINUM
$10,000
One year of programming for domestic violence survivors and their children at Inn Transition North
GOLD
$5,000
New backpacks and school supplies for 300 students along with 4 communal computers at ITN or ITS
SILVER
$2,500
Moving expenses and first month's rent for a family moving out of ITN or ITS
BRONZE
$1,000
One field trip for ITN mothers and their children
FRIEND
$500
One catered lunch for an ITS Saturday Program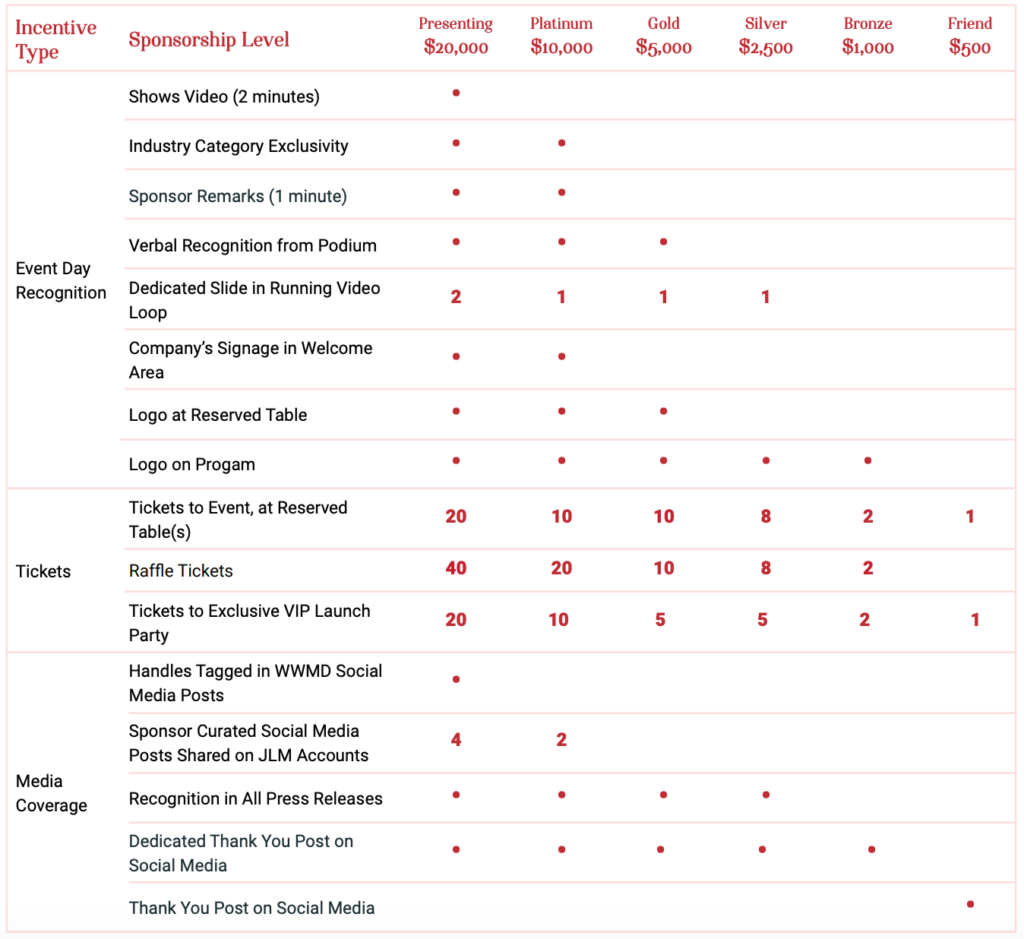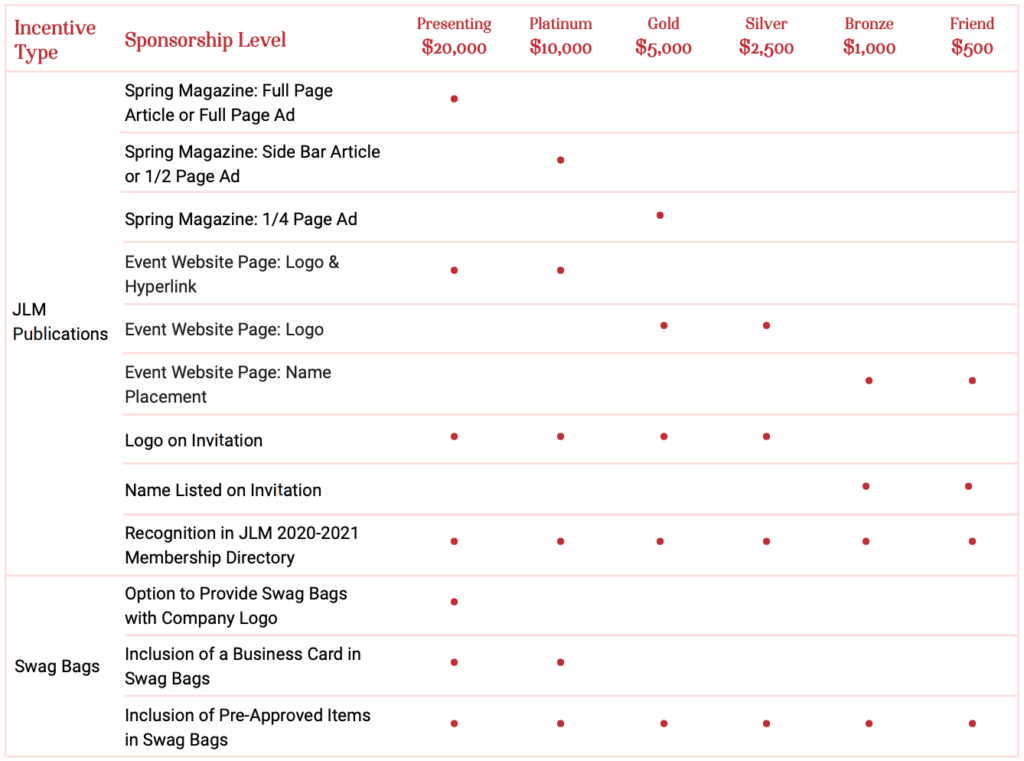 In-Kind & Underwriting Opportunities are also available upon request; please reach out to 
wwmdchair@jlmiami.org
 or view the full Sponsorship Package for additional details.