WWMD – Corporate Sponsorship Page
WOMEN WHO MAKE A DIFFERENCE
CORPORATE SPONSORSHIP INFORMATION
OVERVIEW
The Junior League of Miami (JLM) will be hosting its 19th Annual Women Who Make a Difference Luncheon on April 3rd, 2020. This event is a fundraiser honoring women who have made outstanding contributions in volunteerism and developing the potential of women in our local community. Honorees will be announced late 2019. Additionally, three scholarships will be awarded to local females exhibiting exceptional community service and academic achievement throughout high school. Scholarship winners will be announced at the luncheon.
PURPOSE
Proceeds from this event will support programs focused on women and children at risk. Individual and corporate support will fund our three signature projects: INN Transition North (ITN), INN Transition South (ITS), and Done in a Day volunteer opportunities. For more than 20 years, INN Transition North and South have provided transitional housing facilities and support for survivors of domestic violence. Today, ITN and ITS serve nearly 300 women and children.
EVENT DETAILS
The Women Who Make a Difference Luncheon will take place on Friday, April 3rd, 2020 in Rusty Pelican's extraordinary, waterfront, Grand Ballroom. Over 400 guests will sip wine and enjoy breathtaking views of Biscayne Bay and Downtown Miami while bidding on an array of items in the silent auction, which will commence at 11 am. The silent auction will be followed by a delightful lunch and awards presentation.
OUTREACH
More than 1,500 event invitations will be mailed to JLM members and supporters, providing event partners with significant marketing exposure and exclusive access to our email and social media networks. Sponsorship opportunities also include options for inclusion in the event program, Junior League of Miami Magazine, and on our website.
CORPORATE SPONSORSHIP INFORMATION
By sponsoring the Women Who Make a Difference Luncheon, your organization will become part of a community dedicated to serving the needs of families at risk in Miami. Designed to showcase the power of your brand to make a difference in building community, we offer these exclusive benefits. Our recognition program provides distinct opportunities based on level of giving. For any questions, or to confirm your chosen sponsorship package, please contact our WWMD Co-Chairs, Taylor Abess and Candace Tejidor, by email at wwmdchair@jlmiami.org, or by phone, at (213) 842-3668 or (786) 512- 8027, respectively.
PRESENTING
$20,000
One year of programming for domestic violence survivors and their children at Inn Transition South
PLATINUM
$10,000
One year of programming for domestic violence survivors and their children at Inn Transition North
GOLD
$5,000
New backpacks and school supplies for 300 students along with 4 communal computers at ITN or ITS
SILVER
$2,500
Moving expenses and first month's rent for a family moving out of ITN or ITS
BRONZE
$1,000
One field trip for ITN mothers and their children
FRIEND
$500
One catered lunch for an ITS Saturday Program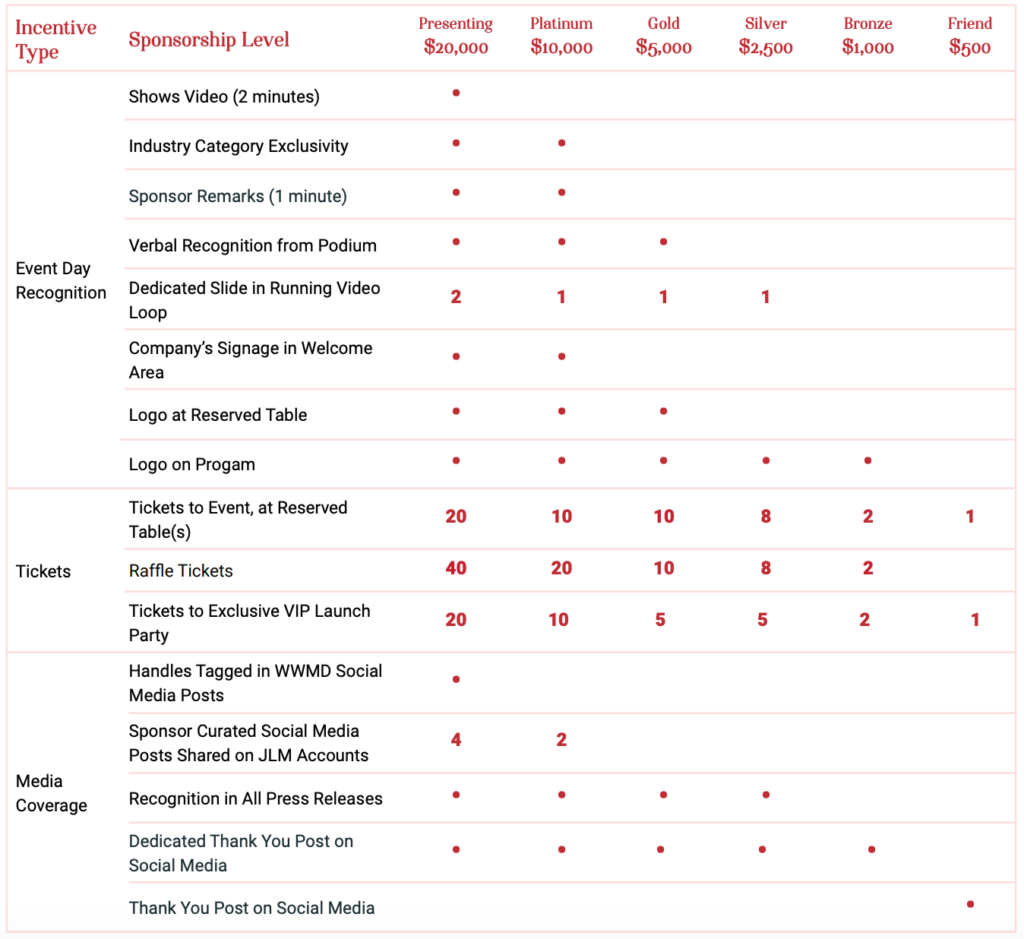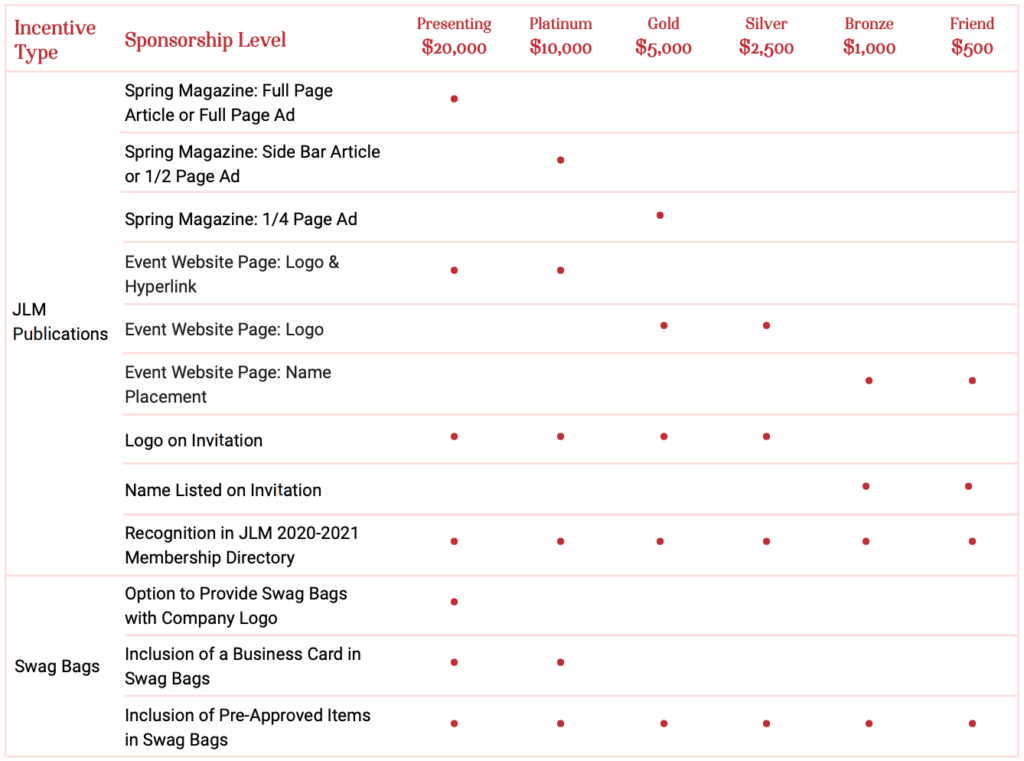 In-Kind & Underwriting Opportunities are also available upon request; please reach out to 
wwmdchair@jlmiami.org
 or view the full Sponsorship Package for additional details.