WWMD – Corporate Sponsorship Page
WOMEN WHO MAKE A DIFFERENCE
CORPORATE SPONSORSHIP INFORMATION
OVERVIEW
The Junior League of Miami (JLM) will be hosting its 20th Annual Women Who Make a Difference Virtual Event on April 23rd, 2021. This event is a fundraiser honoring women who have made outstanding contributions in volunteerism and developing the potential of women in our local community. This year's honorees are Mary Bradley Shafey, Connie Kinnard, Susan Lerner, Rebecca Fishman Lipsey, and Claudia de la Cruz.
This year we have four scholarships being awarded to local females exhibiting exceptional community service and academic achievement throughout high school.
PURPOSE
Proceeds from this event will support programs focused on women and children at risk. Individual and corporate support will fund our community projects and signature programs. For more than 90 years, the Junior League of Miami, Inc. and the Association of Junior Leagues International (AJLI) has worked at the forefront of social reform, tackling the toughest and most critical issues of the day —including childhood nutrition and obesity, human trafficking, foster care, juvenile justice, teen self-esteem, cybercrimes, literacy and the environment, among others—for the purpose of enhancing the social, cultural and political fabric of civil society. As a result of this work, JLM and AJLI —and the more than 125,000 women in over 290 communities in the United States, the United Kingdom, Canada and Mexico who comprise its ranks—has amassed an archive of tangible results and a reputation as thoughtful and influential change agents dedicated to the public good.
EVENT DETAILS
The 20th Annual Women Who Make a Difference will take place virtually, on Friday, April 23, 2021 at 7:00pm. More than 300 attendees will gather virtually to celebrate five incredible business and community leaders and 4 scholarship recipients with track records of exceptional community service and academic achievement, all while enjoying their favorite wine and supporting an incredible organization. Throughout the evening, attendees will have the opportunity to participate in a robust silent auction and learn more about how their dollars are making a difference in our community. To access the Silent Auction, please visit the WWMD 2021 fundraiser website here; the Silent Auction is currently open for presale items. Silent Auction donations are welcome and may be donated via the website or by emailing wwmdchair@jlmiami.org.
OUTREACH
More than 1,500 event invitations will be sent to JLM members and supporters, providing event partners with significant marketing exposure and exclusive access to our email and social media networks. Sponsorship opportunities also include options for inclusion in the digital event program, on our website, and a variety of others.  Please review the complete sponsorship package or reach out to wwmdchair@jlmiami.org for additional details.
CORPORATE SPONSORSHIP INFORMATION
By sponsoring the Women Who Make a Difference annual event, your organization will make a significant impact supporting our community, which is dedicated to serving the needs of at-risk families in Miami. For any questions, or to confirm your chosen sponsorship package, please contact one of our WWMD Co-Chairs, Merdochey LaFrance or Jaclyn Kraper, by email at wwmdchair@jlmiami.org, or by phone at 786-618-7237 or 248-842-0597 respectively.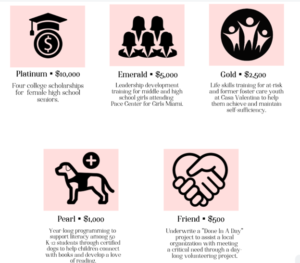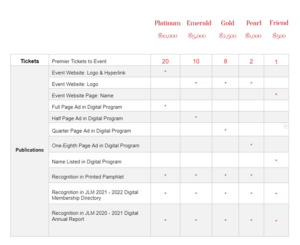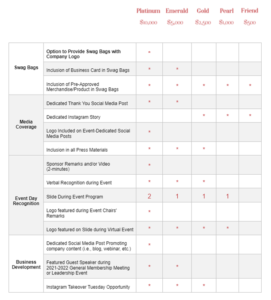 In-Kind & Underwriting Opportunities are also available upon request; please reach out to wwmdchair@jlmiami.org or view the full Sponsorship Package for additional details.