WWMD – Corporate Sponsorship Page
WOMEN WHO MAKE A DIFFERENCE
CORPORATE SPONSORSHIP INFORMATION
OVERVIEW
The Junior League of Miami (JLM) will be hosting its 21st Annual Women Who Make a Difference event on Friday evening, April 1st, 2022. This year's Gatsby inspired evening celebration will honor 3-4 women who have made outstanding contributions in volunteerism and developing the potential of women in our local community. Not only will we be celebrating this year's honorees, but we will recognize the incredible honorees of 2020 & 2021 who were limited to virtual celebrations. This year's honorees will be announced in late 2021. Additionally, four college scholarships will be awarded to local females who have exhibited exceptional community service and academic achievement throughout their high school careers. Scholarship winners will be announced prior to the event.
PURPOSE
Proceeds from this event will support programs focused on women and children at risk. Individual and corporate support will fund our community projects and signature programs. For nearly 100 years, the Junior League of Miami has worked at the forefront of our community's toughest and most critical issues of the time, with a current focus on reducing food insecurity for women and children at risk. As a result of this work, The Junior League—and the more than 125,000 women in over 290 communities in the United States, the United Kingdom, Canada and Mexico who comprise its ranks—has amassed an archive of tangible results and a reputation as catalysts for lasting community change.
EVENT DETAILS
Dust off your dancing shoes and grab your partner because this year's Women Who Make a Difference is an evening you won't want to miss! On Friday evening, April 1st, 2022, attendees will gather at Rusty Pelican's waterfront Grand Ballroom for a Gatsby inspired celebration. Over 350 guests will come together to benefit at-risk women and children in Miami, while enjoying breathtaking views of Biscayne Bay and the Miami skyline. Our silent auction and cocktail hour will begin at 7:00pm and will be followed by dinner, dancing, and a special awards presentation.
CORPORATE SPONSORSHIP INFORMATION
By sponsoring the 21st annual Women Who Make a Difference, your organization will make a significant impact in supporting our JLM community, which is dedicated to serving the needs of at-risk families in Miami. For any questions, or to confirm your chosen sponsorship package, please contact our WWMD Chair, Jillian Kuehl, by email at wwmdchair@jlmiami.org or by phone at (305)397-9759.
Designed to showcase the power of your brand to make a difference in supporting your community, we offer the following exclusive benefits. Our recognition program provides distinct opportunities based on level of giving. More than 1,500 philanthropic individuals will be invited, including JLM members and community supporters, providing event partners with significant marketing opportunities and exclusive access to our JLM social media networks. Sponsorship opportunities also include options for inclusion in the event program, on our website, and direct recognition at the event.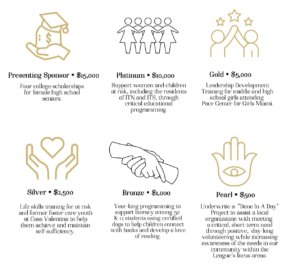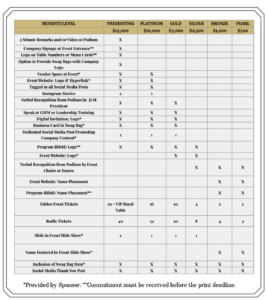 In-Kind & Underwriting Opportunities are also available upon request; please reach out to wwmdchair@jlmiami.org or view the full Sponsorship Package for additional details.