Junior League of Miami Scholarship
Recognizing young women in the Miami-Dade community for their superior community service involvement and academic achievements.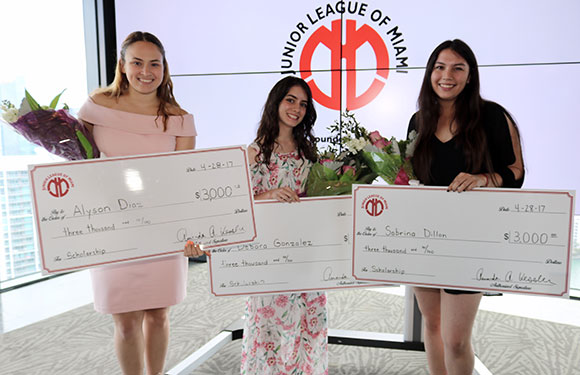 PROGRAM OVERVIEW
The Junior League of Miami, Inc. is proud to administer four scholarships, awarded annually, to female high school seniors in Miami-Dade County Public Schools who have exhibited superior community service involvement during their high school careers, while maintaining high academic achievement.
AVAILABLE SCHOLARSHIPS
THE UPPALURI FAMILY FOUNDATION SCHOLARSHIP
Established in 2015, this scholarship is funded by Mr. and Mrs. Uppaluri, who came to the United States to further their education and want to give back to the community that gave them so much. Mr. and Mrs. Uppaluri strongly believe that the opportunity to get a higher education is a privilege and want to give this opportunity to hard working students in the Miami-Dade Public School System. The scholarship will be presented annually to (1) female high school senior in the Miami-Dade County Public School system, with a possibility to receive further funding for three consecutive years upon reapplication and continuing to meet all eligibility requirements.
Award Amount: $9,000 provided in the following manner:
• Year 1: $3,000
• Year 2 – 4: Additional $2,000/year (annual re-application required)
THE KATHRYN MENKE MILLER SCHOLARSHIP
Established in 1985, this scholarship is given in memory of one of our members, Kathryn Menke Miller. Kathryn was the "epitome of a hardworking, caring, and loving volunteer." Her greatest accomplishments were assisting our community's children and her dedication to our public education system. This scholarship is presented annually to two (2) female high school seniors in the Miami-Dade County Public School System.
Award amount: $3,000
THE MARY BRADLEY SHAFEY NURSING SCHOLARSHIP
Established in 2020 by Mary Bradley Shafey, this scholarship recognizes a deserving young woman in our community who intends to enroll in an undergraduate nursing program. As a registered nurse and a past President of the Junior League of Miami Foundation, Mary is passionate about providing the education and pathway for a student who is both compassionate and resilient in her spirit. During her years in the hospital, Mary personally experienced the transformative nature of nursing and the important role it holds in a patient's care. Mary believes in the powerful combination of modern medicine and the human element. This scholarship is intended for one (1) female high school seniors in the Miami-Dade County Public School System who shares the same perspective of nursing as both an art and a science.
Award amount: $1,000
APPLICATION PROCESS
1. NOMINATION: To be considered, candidates must be nominated by their school and meet all eligibility criteria (see Scholar Eligibility). Each school may select ONE (1) general applicant and ONE (1) nursing applicant. Once identified, schools should notify the scholar of the nomination and provide information on how to apply.
2. APPLICATION SUBMISSION: The following application materials must be submitted by the deadline (see Dates & Deadlines):
• Nomination Form (completed by school)
• Scholar Application (completed by candidate)
• Community Service Recommendation Form (completed by community service supervisor)
3. APPLICATION REVIEW: The Junior League of Miami's Scholarship Committee will review applications and select finalists.
4. CANDIDATE INTERVIEWS: Finalists will participate in virtual interviews with Scholarship Committee members.
5. AWARD DECISIONS: Recipients will be notified of the committee's decision by email.
*If selected to receive a Junior League of Miami Scholarship, the recipient will be expected to attend a recognition ceremony as a guest of honor. Additional details regarding the scholarship presentation will be made available as needed.
SCHOLAR ELIGIBILITY
To be considered for a Junior League of Miami scholarship, a scholar must:
• be a South Florida resident and graduating female senior at a Miami-Dade County public school (including charter schools).
• have a minimum 3.0 GPA and 3.0 conduct average.
• demonstrate significant commitment and contributions to the local community
• earn a standard Florida high school diploma or its equivalent
• enroll for at least 6 semester credit hours (or the equivalent in quarters) at an accredited institution for the Fall semester immediately following high school graduation.
• complete the Florida Financial Aid Application by high school graduation
• not have been convicted of a crime
DATES & DEADLINES
All application materials must be submitted by December 15, 2023.
Finalist virtual interviews will take place January 2024.
Award decisions will be announced February 2024.
For questions or additional information on The Junior League of Miami Scholarship, please contact the Scholarship Committee Chair at: scholarship@jlmiami.org.