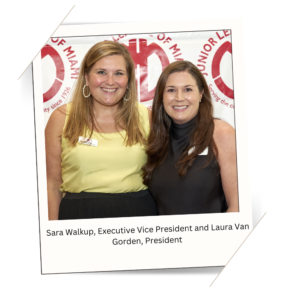 Welcome to the 98th year of the Junior League of Miami! It is truly humbling to look back over the last 97 years and think about the thousands of women that have dedicated their time and treasure to improving our Miami community through their work in our all-volunteer run organization. Our membership is made up of more than 600 women from a diverse array of backgrounds, who come together around a shared passion for making our community a better place for all. As we head toward our centennial celebration in 2026, we will continue to bring measurable impact through our mission – advancement of women's leadership, meaningful volunteer work, community collaboration and training.
The COVID-19 pandemic increased food insecurity in the United States and hunger continues to be a predominant issue in our community. Ten percent of the total population in Miami-Dade County is food insecure, and the number increases to more than 18% for children in our community. Throughout its history, the Junior League has focused on numerous issue areas impacting children and families at-risk, partnering with key organizations throughout Miami-Dade to effect positive change. We are thrilled to continue our partnership this year with Food Rescue US to reduce hunger and food waste in our community. In addition to fighting food insecurity, we continue to provide services to women and children that are survivors of domestic violence through our Inn Transition program, one of our signature projects for more than 30 years; and are pleased to announce a new partnership with ICU Baby, to support NICU families at Jackson Memorial Hospital.
Despite fundraising challenges during the pandemic, the sale of a real estate asset in 2022 allowed the Junior League to bring back our community grant giving program this past year with more than $220,000 distributed to well-deserving non-profits to help reduce food insecurity, homelessness, increase literacy rates, support peer-to-peer education and mentoring, hurricane relief and more in South Florida. The League has a goal of providing more than $100,000 in grants each year by donating all funds raised on Give Miami Day to the community grant program with a dollar-for-dollar match from our Foundation to double the impact.
It is my absolute pleasure to serve as the president of the Junior League of Miami and work with Sara Walkup, our executive vice president to lead our community impact, leadership development, advocacy, fundraising and membership initiatives this year in support of a better Miami.
Please consider supporting us in one of the following ways:
Join us! We welcome all women who value our mission of advancing women's leadership, contributing to meaningful volunteer work, community collaboration and training. Click here for more information and to join!
Make a tax-deductible donation.
Donate on Give Miami Day (Thursday, November 16, 2023) as we participate in one of the nation's biggest 24-hour annual giving events.
Sponsor and/or attend our annual fundraiser in Spring 2024, the Women Who Make a Difference Luncheon, when we honor several outstanding women who exemplify the League's mission through their philanthropy, volunteerism, and development of women's leadership in South Florida. Please contact wwmd@jlmiami.org for Sponsorship opportunities.
With gratitude,
Laura Van Gorden
President